ATLANTIS THE ROYAL:
– THE MOST ULTRA-LUXURY EXPERIENTIAL RESORT IN THE WORLD
By Rory Hooseman, Manager, Halford Street
I was super fortunate to get the chance to visit the brand new Atlantis, The Royal. This hotel is the new icon for Dubai; the place to be, the place to be seen and the new epitome of a luxury hotel not only in the Middle East Region, but globally. It is clear to see, why this hotel has been dubbed, the best hotel… in the world.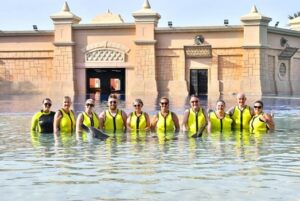 The hotel itself oozes excellence with every design, every personal touch with the highest levels of service anywhere in the UAE. The style of the building was drafted up over a couple of drinks on the back of a napkin and is supposed to be a 'deconstructed' hotel and cost over £1.6 billion to build. Every single detail crafted so meticulously it is impossible to not be impressed by the shear standard of this property.
Where the highest level of service sets a new standard in excellence. This is the place where something incredible happens at every moment of your stay. This is Atlantis The Royal.
THIS IS DUBAI'S NEWEST ICON
Atlantis The Royal set the stage for its Grand Reveal Weekend with an exclusive performance by global icon, Beyoncé. The resort unveiled itself to the world with a three-day star-studded weekend (20th-22nd January 2023), where global celebrities and special guests from around the world came to celebrate the most ultra-luxury experiential resort in the world.
Hotel looking familiar? If you have watched the music video by global superstars Tiësto and Tate McRae's "10:35", the entire video is filmed around the hotel – from the lobby to Ling Ling by Hakkasan restaurant and lounge, to the pools and the mesmerizing Skyblaze Fountains, it is all Atlantis!
Stay
Set across three towers, the 795 rooms, suites and two-or-three-bedroom penthouses take luxury living to the next level. All feature beautiful bedrooms, walk-in wardrobes, dressing rooms and bathrooms with walk-in showers and standalone tubs, while select suites also offer dining rooms, kitchens, and private swimming pools. Every stay includes daily breakfast, as well as access to the Atlantis Explorers Kids' Club [Atlantis, The Palm], Aquaventure Waterpark [Atlantis, The Palm], The Lost Chambers Aquarium, Skyblaze Fountain show and AWAKEN Fitness Centre. Certain suites and penthouses also benefit from complimentary Afternoon Tea and evening drinks, butler service, in-room check-in, round-trip transfers and more.
We were all allocated the Palmscape Rooms with Club Lounge access. [See picture].
The Ultimate Luxury Experience
If you really want the ultimate luxury experience, then look no further than The Royal Mansion – truly is fit for royalty. This two-level Penthouse has a private foyer with 100-year-old olive trees and sky-high ceilings that will leave you speechless from the moment you arrive.
Make the most of the entertainment areas, such as the private terrace with spellbinding views, and glistening infinity pool for a post sunset dip. Made for celebrations in the sky, the outdoor kitchen is the perfect addition for those who love the buzz of a good night. For a more formal affair, revel in celebrity chef dining in a 12-seater luxe dining setting indoor.
With its very own entertainment room along with a library and bar area, you'll be treated to limitless options in the comfort of your own Penthouse. Every detail in the Royal Mansion will make you feel like royalty, from your private entrance to the exclusive Hermès in-room amenities.
Unfortunately, we were unable to see this room whilst we were in Dubai as it became booked out for a 14 night stay, however this is the room that Beyoncé stayed in, and would set you back just over £100,000 per night.
Dubai's most insta-worthy spot
After a light breakfast following our overnight night flight to Dubai, we headed up to the most photogenic and Instagram Famed pool in the whole of the Middle East. Cloud 22. This adult only area is located 22 stories above the palm with one of the most picturesque infinity pools anywhere in the world, with infinite views out over the Palm, The Burj Al-Arab and if the weather is clear, you may also see the Burj Khalifa – the worlds tallest building.Unwind with a cocktail and enjoy the views of this exclusive retreat, only accessible to hotel guests of the Atlantis The Royal. We were told  a story by the Hotel Sales Executive that they had one gentleman about 2 weeks earlier who was not staying at the hotel who wanted to go up to this retreat and was willing to pay up to £15,000 to do so for the day! The hotel refused. This really is a haven, in the skies over Dubai. Relax and dine with the gorgeous options of food and drink in this French Mediterranean Styled Oasis, with a gentle breeze from the Arabian Sea.
Dinner by Heston Blumenthal
For dinner, we were lucky enough to enjoy the cutting edge and yet historic twist of British Cuisine, dating back as far as the 1300s courtesy of Dinner by Heston Blumenthal Dubai. This really was a highlight of the entire time in Dubai, for the theatrics, the service, and the playful take on British food with typical Heston style – if it looks like one thing, it isn't going to be that! MICHELIN-star chef Heston Blumenthal embarked on a journey to create a menu that transports historical discoveries and fascinations into a new and evolving modern dining experience. His iconic and signature dishes such as the Meat Fruit, a playful mandarin and chicken liver parfait, and jovially named Tipsy Cake, a spit roast pineapple dessert circa 1810, are world-renowned. In fact, not only is Heston a MICHELIN-stared chef; although only being open just over 2 months, the MICHELIN awards were taking place during our stay, and we were so pleased to hear the team at Dinner by Heston Blumenthal Dubai had also just won the coveted MICHELIN star.
Atlantis, The Palm
A visit to the Atlantis The Royal would not be complete without visiting the world famous Atlantis, The Palm. This lavish marine-themed resort combines luxury with a whole host of incredible attractions that will keep you and the kids awe-struck from the first day of your holiday right through to the last. Freshly designed rooms and suites come with full or partial views of the tranquil Arabian Sea or the iconic Palm Island, accommodating families on holiday, or the those seeking a couple's getaway. When you're not drinking in your wonderful surrounds, wander through the passageways and tunnels of The Lost Chambers Aquarium and marvel at over 65,000 marine animals at the Ambassador Lagoon, or endure record-breaking thrills at Atlantis Aquaventure – the world's largest waterpark with a total of 105 slides, attractions, and experiences – completely free to guests throughout their stay! Being the resort of choice for a-list stars, it's not uncommon to see celebrities enjoying a break or TV shows and movies being filmed at this iconic resort. This resort is truly, the ultimate Family Holiday Destination – Add it to your Family Bucket List! One not to be missed! The food options at Atlantis, The Palm are even more extensive than her new sister, The Royal. With 34 bars and restaurants throughout the resort and over 50 bars and restaurants across the two properties it is impossible not to love the options here! After a bit of time exploring the grounds of Atlantis, The Palm [which was near 100% capacity], we retreated to the oasis of calm at The Royal. The Royal at the time we were there was at around 75% capacity, and yet it never felt busy, and there was always an air of calm exuding from the grounds of The Royal. Before travelling out to Dubai, I was often hearing that the two hotels are just copies of each other – this could simply not be further from the case, and I would happily argue this with anyone. The Royal is more geared up to adults, The Palm is more targeted towards the families. In the words of the hotel sales executive. "The Palm is for adults to take their children to; The Royal is for when the children have grown up and are wanting a more adult experience and will take their partners or their parents to." Although opulent, The Royal is anything but stuffy. It has a chilled vibe, with an air of glamour, but at no stage would you ever feel out of place. Just a note, guests of the Atlantis, The Royal can use the facilities of both hotels however, guests of The Palm cannot use the facilities of The Royal.
Atlantis The Royal – Dining Options [Highlights]
Michelin Awarded Restaurants
Dinner by Heston Blumenthal

*One Michelin Star*

Progressive British Cuisine
 
Ariana's Persian Kitchen

*Michelin Guide Selection*

Persian Cuisine
 
La Mar by Gaston Acurio

*One Michelin Star*

Peruvian Cuisine
 
Milos by Costas Spiliadis

*Michelin Guide Selection*

Greek Cuisine
 
Jaleo by Jose Andres

*Michelin Guide Selection*

Spanish Cuisine
Casual Restaurants
Gastronomy
Breakfast Market Style
 
Malibu 90265
American Diner
 
Seascapes
Street Food Style
Dubai's Best Beach Clubs & Bars
Nobu by the Beach
Private Pool with outdoor

Japanese/Peruvian Restaurant

 
Cloud 22
French Mediterranean

Rooftop Pool & Bar

 
Resonance by Heston Blumenthal
Sophisticated Molecular Bar
 
Elements
Lounge Terrace
 
Seascapes Beach Club
Chilled Beach Bar
Lounges & Cafes
Royal Tearoom

with Christophe Devoille

Luxury Afternoon Tea
 
House of Desserts
Artisan Gelato
 
Little Venice Cake Company
Award winning cake innovations
Atlantis The Palm – Dining Options [Highlights]
Celebrity Chef's Restaurants
Ossiano by Gregoire Berger

*One Michelin Star*

Fine Dining
 
Hakkasan

*One Michelin Star*

Cantonese Cuisine
 
Nobu

*Michelin Guide Selection*

Japanese/Peruvian Cuisine
 
Gordon Ramsay's Bread Street Kitchen
British Cuisine
Signature Restaurants
Ayamna
Lebanese Cuisine
 
Seafire Steakhouse & Bar
New York Steakhouse Style
 
En Fuego
Latin American Cuisine
 
White Beach
Mediterranean Cuisine
Casual Restaurants
Wavehouse
Entertainment & grad and go food
 
Street Pizza
Bottomless Pizza
 
Saffron
Best Brunch in all of Dubai
 
Kaleidoscope
All Day Dining
Jaleo Dubai by José Andrés
For dinner #2 of our stay in Dubai, we were invited to experience, Jaleo. Jaleo which is in the Michelin Guide Selection is a stunning modern style restaurant focusing on rich regional diversity of Spanish cuisine, headed by Michelin Star chef, José Andrés who has been voted the best chef in Spain for the last 6 years running. Presenting a menu of signature tapas, hearty paellas, summery sangrias, and a selection of the finest Spanish cheeses, wines, and sherries. Legacy and whimsy in one bite, taste an experience that will stay with you forever. After a day of Sun, Sea and copious amounts of Sangria it was time to retire to bed before we conquered Aquaventure – the world's biggest waterpark!
Aquaventure Dubai
You cannot go to Dubai without visiting the famous Aquaventure waterpark. Start exploring the world's largest waterpark and get your pulse racing with over 105 record-breaking slides, attractions and experiences, make your way through the Raging Rapids, and relax on 1km of private beach. When staying at Atlantis The Royal, you will also have complimentary access to Aquaventure. There is so much more than just waterslides here – although they are absolutely insane and will have you coming back for more again and again! As well as rides, there is also a Dolphin rehabilitation and education centre. Over the years, numerous dolphins have been through Atlantis The Palm after being rehoused for all manner of reasons. Many of these have been lucky enough to have then gone on to be returned to the wild. With the select number of dolphins where this is not possible, they are rehoused here in the Dolphin Bay at Atlas Village of Aquaventure. The dolphin swim experiences have now been removed from the programme, and instead other experiences are in their place, with Dolphin 'Kayaking', and the Dolphin Encounter. The encounter allows you to get up-close in waist deep water to meet the resident dolphins and along with a marine biologist and behaviour expert will have the chance to learn about the dolphins close. This experience, as to be expected, is the most contentious of all the activities at the Atlantis Resorts. There is a clear focus on the wellbeing of the animals, and at no stage is the dolphin forced to do anything against its will or at the stage of agitation. This is where the role of the behaviour expert comes in, where the dolphin can interact with the guests, but at the same time is able to go off and come back as it pleases, and the experience will be stopped if the dolphin becomes stressed. Our experience was with an Indo-Pacific Bottlenose Dolphin called Lilly who had be rehoused after being abused in an Indian zoo. Unfortunately, due to this, Lilly is unable to return to the ocean, however, will hopefully raise awareness and life-long marine life appreciation.
 La Mar Dubai by Gaston Acurio
The third dinner, this time at La Mar was the highlight of the entire stay. Incorporating delicious modern Latin American flavour with stunning Peruvian traditional dishes and cocktails, it really was amazing. Even better, along with HESTON, La Mar also won a MICHELIN star whilst we were there.  La Mar restaurant features an enticing menu with upscale Sabores Autenticos that include Classic Cebiches, delicate tiraditos, Traditional Peruvian Potato causas, and even freshly grilled anticucho, street food style favourites. And of course, no Peruvian experience would be complete without a crisp glass of Pisco Sour with your meal at the elegant and contemporary indoor restaurant or as you watch the sunset over the horizon from the outdoor terrace bar.
Ling Ling Dubai
Dubai's best restaurant, Ling Ling Dubai located on the 23rd floor at Atlantis The Royal, opens up to a dining room, an ultra-lounge club and outdoor terraces, which boasts 180-degree panoramic views of the Palm, the Arabian Sea and Dubai's captivating skyline.  Ling Ling is more than a dining experience it's also a destination lounge which leads you into the evening, and then into the late night through signature tastes, sights, and sounds. Evolving from drinking to dining to dancing, in no order. The contemporary Asian restaurant menu is supported by stylish décor and set to an eclectic soundtrack designed to create an alluring ambiance for wherever the night might lead.
Gastronomy
To start each day right, you cannot go to The Atlantis, The Royal, without visiting Gastronomy. This is currently only open for breakfast, however there is talk of this becoming a lunchtime venue too. Dine around the world with dedicated breakfast room. Here there are numerous stations dotted around the room with everything from Pastries; cheese, and meat delicatessen; fruit and yoghurt stations; Indian stations; Chinese; egg stations; and even a veg. smoothie station, for your celery and kale smoothies. So yes, there was a few in the group that for breakfast managed to combine Eggs Benedict with Chow Mein and Chocolate Strawberries!
Nobu by the Beach
Nobu's debut pool and beach club in Dubai is a haven of indulgent relaxation. Lounge in your private cabana, sip on a signature cocktail and let the live music pulsate through you. The concise menu of inventive Japanese-Peruvian bites, sharing platters and signature dishes promise to deliver on all your Nobu expectations.  Beach Club – To the worldly and discerning bon vivant. Nobu by the Beach is a refined pool and beach club, promising an indulgent day spent gratifying all your senses under the sun. [Adult Only] Restaurant – Explore exquisite culinary masterpieces, bespoke service and laidback live entertainment in interiors inspired by Japanese architecture and the oceanfront location.
Estiatorio Milos Dubai
Recognised as one of the finest Mediterranean seafood restaurants in the world, Estiatorio Milos by acclaimed Chef Costas Spiliadis introduces gourmands to high-end Hellenic food, wine and hospitality that is infused with a philosophy of simplicity. More than just an exquisite meal, an experience at Milos Dubai encompasses the time-honored virtue of hospitality and embracing dining as an act of sharing. Every dish from the freshly caught fish and Greek wild oysters to the ceviches and tzatziki are presented in their purest form with a brush of Aegean rock salt or a drizzle of olive oil from centuries old Koroneiki olive trees, accentuating the natural flavours and freshness of the ingredients
Book a Dubai city break
We want every city break holiday you take to be your best yet. To get some expert advice about things to do in Dubai and places to stay, get in touch with one of Millington Travel's Travel Experts
The more we know about you, the more bespoke we can arrange for yourDubai  city break to be. To speak to one of our holiday destinations experts today, contact your local store, via our Find your nearest store page.