Barcelona is one of those cities that instantly draws you in. The lively buzz, beautiful architecture, friendly locals, and a unique mix of charm and cool makes Barcelona one of the most attractive cities in Europe.
Top travel destinations often claim to 'have it all', but in Barcelona, this really is the truth. When wondering what you can do in Barcelona, the better question would be what you can't do in the city.
As a hub of everything, there is something for everyone here. Whether you're the adventurous type, a cultured explorer or prefer to take things more at a relaxed leisurely pace with a cocktail in hand, there are plenty of sites and activities to suit. There's also plenty to occupy solo travellers and families alike.
The relaxed
If your getaway really isn't a getaway for you unless there is an element of relaxation, you're in luck. Yes, it's very easy to get caught up in rushing around the array of iconic sights but some of your most rewarding time in Barcelona is spent taking it easy at a leisurely pace. You are on vacation after all!
Unlike most big city breaks, Barcelona has more than two miles of beach to rest your feet on. To get away from the touristy crowds, head to Bogatell or Sant Sebatia for a more tranquil environment.
For ultimate relaxation, mixed with some culture, head to Aire de Barcelona, a dream-like spa located in the Born. The space has restored the ancient baths from a warehouse built in the 17th century. The peacefulness, the architecture, and the baths make for an unforgettable relaxation experience.
There's something peaceful about finding a terrace or rooftop in a traditional bar and watching the world go by with a drink and nibbles in hand. With a host of tapas bars and plenty of sangria, you won't be short of options for finding the perfect stop-off.
In the evening make sure you visit the Magic Fountain on Avinguda Maria Cristina. The spectacular event is a light show of dancing fountains that will leave you speechless. The fountains dance to a music selection that changes every night but can include 2000's hits, cartoon soundtracks, Spanish classical, swing, rock hits and more. In all the show lasts about half an hour and it's completely free. Find a good spot to perch yourself and take it all in!
The adventurous
There are kayaking options close to Barcelona's central beaches but for a proper experience take a day trip to Costa Brava, a coastline where you can kayak and cava snorkel in picturesque surroundings and crystal clear water.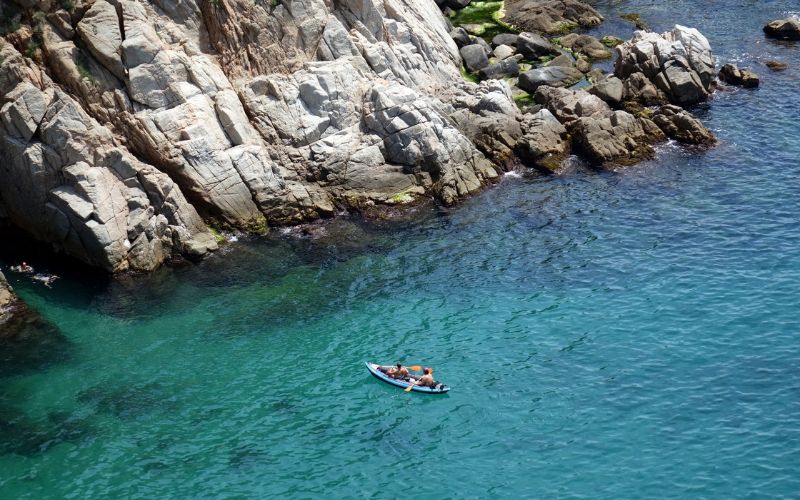 The Montserrat hike is often referred to as the best hike in Barcelona. Montserrat is a multi-peak mountain range (a 1,236m summit) just over 50km from Barcelona. If you have an adventurous spirit, the best way to experience the mountain range is to hike from the base to the summit. If you want to pass on the hike, you can also take the leisurely cable car up to the top.
If you like to mix in with local festivities or join the thousands who descend on Barcelona for some of the world's largest annual music festivals, there are plenty to choose from. The best to look out for are La Merce, primavera Sound, and Cruilla Festival.
The cultured
Antoní Gaudí is undoubtedly Barcelona's most famous and admired architect. For fans of his work and architecture in general, his work is found throughout the city. La Sagrada Familia, Parque Güell and the skeletal balconies of Casa Batlló.
It's also well worth checking out the city's impressive collections of art by famous Spanish artists such as Picasso and Dalí. Barcelona is bristling with artistic talent and historic pieces that are all ready to be discovered in the array of museums.
Flamenco dancing is a wonderful symbol of Spanish culture. During your stay in Barcelona there are many places to watch performers or if you really want to get involved, you could sign up to a flamenco class in the city!
Everybody loves a proper market. The buzz, the smells, the hustle and bustle, and the excitement of finding the perfect item. Markets also give you the chance to rub shoulders with the locals and get a taste for day to day life in the city.
La Boqueria is Barcelona's biggest and most famous market, dating back to around 1200 when it began. Walking around the market is a true sensory overload with so much local produce to try.
If you'd rather a market with some memorabilia and arty pieces visit the Mercat Del Encants, the city's biggest flea market – dating back to the 13th century.
The families
Barcelona is a great city to keep the kids happy. Much of the above can be enjoyed as a family but there are some other particular attractions that you and the kids will equally enjoy in Barcelona.
An exciting experience for your little ones in Barcelona is seeing the city from the air on a cable car. Port Cable Car takes you from the beach up to Montjuïc. The ride takes around 10 minutes and on it have views across the city. Once at the top you'll have the options of getting a second cable car to take you up to the summit of Mount Montjuïc where there are some special viewpoints.
If you've got a few budding football stars in the family, a stadium tour of the Nou Camp is a must. The iconic stadium is one of the world's largest, holding up to 100,000 fans. On a tour you'll get to look around the trophy room, changing rooms and walk through the tunnels and out onto the pitch. If you're lucky, your trip to Barcelona might be timed with a home game.
For thrill-seeking families, there are two amusement parks with roller coasters and fun rides, Port Aventura World, one of the country's most visited, and Tibidabo, a vintage amusement park with a ferris wheel, and classic fairground rides.
Book a Barcelona city break
We want every city break holiday you take to be your best yet. To get some expert advice about things to do in Barcelona and places to stay, get in touch with one of Millington Travel's European holiday experts.
The more we know about you, the more bespoke we can arrange for your Barcelona city break to be. To speak to one of our holiday destinations experts today, contact your local store, via our Find your nearest store page.