Familiarisation trip – April 2017
I have just returned from a fantastic trip to South Africa, it has been somewhere I have always wanted to visit, and it didn't disappoint.
If you love food then South Africa will be perfect for you. We ate our way from Western Cape to Eastern Cape over 10 days. Let me take you on my food tour of South Africa!
This is what we did:
Day 1 – Arriving in Cape Town
We flew British Airways Club class to Cape Town and with only one hour time difference in April, it was nice to arrive in a destination after a long flight with barely any time difference.
We made the short transfer into Cape Town and checked into the Southern Sun Waterfront hotel, a lovely hotel in a good location for everything in Cape Town apart from the waterfront as the name would suggest.
To get to the V&A Waterfront, it is probably a 20-minute walk or £2-3 for a taxi (taxis are very cheap here.
Website: www.tsogosun.com
Day 2 – exploring Cape Town
We headed out for lunch at Chalk & Cork, a lovely laid-back tapas restaurant on the trendy Kloof Street. We leisurely soaked up the Cape Town sunshine whilst watching the locals go by and sampling local wine.
Tapas restaurant in Cape Town: http://www.chalkandcork.co.za/
After lunch, we headed to the V&A Waterfront for a look round and a fantastic helicopter flight.
V&A Waterfront Cape Town helicopter ride: https://www.nachelicopterscapetown.com/
Day 3 – mountain and museum
This morning we headed up to Table Mountain, a flat-topped mountain forming a prominent landmark overlooking the city of Cape Town.
We took the cable car to the top and were very lucky to have perfect clear blue skies. The view was just breath-taking. I wasn't sure what to expect at the top but it by far exceeded my expectations.
For travellers coming to the mountain, I'd recommend booking a fast track ticket to avoid the queues at the top of the mountain.
Table Mountain information: http://www.tablemountain.net/
In the afternoon, we headed into the District 6 area to visit the District Six Museum which tells the story of apartheid nationalist government. It is only a small museum so doesn't take long to visit but is well worth dropping in if you have time.
District Six Museum information: http://www.districtsix.co.za/
After the museum, we headed for lunch at The Old Biscuit Mill for the Neighbourgoods Market. Being a Saturday, it was very busy with the locals and had a great feel to the place. There was everything from local food stalls to great shopping for souvenirs to take home.
The Test Kitchen, one of the top 20 restaurants in the world, is also based here so grab a table if you get the chance. Remember, though, pre-booking essential.
Neighbourgoods Market: http://www.neighbourgoodsmarket.co.za/
Once we'd finished at the Neighbourgoods Market, we headed out of town to Groot Constantia, the oldest wine producing estate in South Africa. On the estate, we did a different take on the classic wine tasting with a 'wine & chocolate' pairing session, great if you have a sweet tooth!
Groot Constantia information: https://www.grootconstantia.co.za/
If great food is your thing, then a trip to 4Roomed eKasi Culture is worth a visit. The restaurant is a short drive out of Cape Town and is a concept started by a MasterChef finalist, bringing local food up to fine dining standards and giving back to the local economy.
4Roomed eKasi Culture information: https://4roomedekasiculture.com/
Day 4 – Cape Town to Aquila Game Reserve
On our fourth day, we left Cape town and headed to the town of Stellenbosch, stopping for a morning coffee in the oak-shaded streets lined with coffee shops, boutiques and galleries. This town is perfect for a quieter alternative to Cape Town for a night or two and a great place to start your Garden Route experience.
Just outside of Stellenbosch, we went to the Tokara Wine Estate for stunning views, great food and wine.
Website: http://www.tokara.co.za/
After lunch, we made the short drive to Aquila Game Reserve.
Aquila Game Reserve is an animal rehabilitation and conservation centre and, as such, isn't as big an area to cover as the private game reserves. This meant that we were able to see all of the big 5 game animals: lion, leopard, rhinoceros, elephant, and Cape buffalo.
The rooms, pool and spa facilities were great at Aquila and being such a short drive from Cape Town, it's a perfect stop-off point. If you are short on time and wanted to see the big 5, the reserve also offers morning and afternoon game drives.
Website: http://www.aquilasafari.com/
Day 5 – Ostritch Farm tour
After a morning game drive, we headed out to the Little Karoo town of Oudtshoorn which is known as the ostrich capital of the world!
We had a lovely lunch and tour at the Highgate Ostrich Farm before checking into Mooiplaas Guest House, our evenings accommodation which is conveniently located next door to the ostrich farm.
Website: http://highgate.co.za/
Website: http://www.mooiplaasguesthouse.co.za
Day 6 – Meerkats to Oysters
Early this morning we went on a wild meerkat adventure! We headed out into the desert to sit and wait for the meerkats to wake up!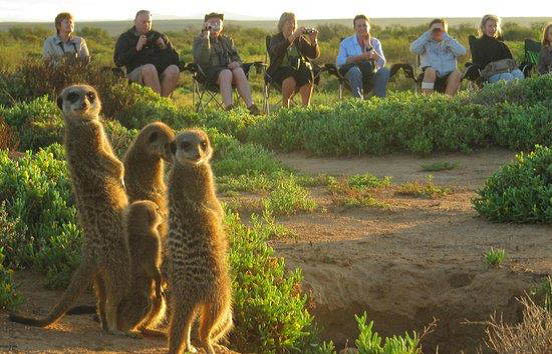 We then headed along the Knysna where we join an oyster cruise. I'm not normally a fan of oysters but these are the best I have ever tasted! Washing them down with some delicious local wine maybe made it a bit easier!
We didn't have time to spare in Knysa but it looked lovely and I would recommend staying if time allows. It is a small town surrounded by a lagoon with lots of shops, bars and restaurants.
Information about Knysa: http://www.knysnacharters.com
After the oyster cruise, we drove onwards to Plettenberg Bay which is another small town along the Garden Route. We stayed at The Robberg Beach Lodge which is a little way out of town but overlooks the ocean which offers great views.
The Robberg Beach Lodge information: http://www.therobberg.co.za/
Day 7 – cliff-top hike and Tsitsikamma National Park
This morning after breakfast we headed to Robberg Nature Reserve for a lovely cliff-top walk where we saw sharks and seals swimming below us. You can hire a guide to take you around or there is a guided walk you can follow.
We headed to Tsitsikamma National Park after the walk but stopped off at Bloukrans Bridge for some people to do the world's highest bridge bungee. At 216 metres high, it isn't for the faint-hearted!
Another stop-off for lunch and we then arrived at Tsitsikamma National Park. We jumped into some two-man kayaks and paddled out a short while into the ocean before heading down into Storms River Gorge. Halfway down the gorge, we swapped our kayaks for lilos and carried on further into the gorge before heading back out at the end of the day.
This evening we stayed at Tsitsikamma Village Inn which is a lovely small property with a good bar and restaurant on site with lots of lovely local food. There is a 60's diner next door to the hotel and a microbrewery on site so plenty of options available.
Website: http://www.tsitsikammavillageinn.co.za/
Day 8 – Pumba Game Reserve

Today is the day I had been waiting for all week. We were heading to the Pumba Game Reserve. Expectations were high and it definitely didn't disappoint.
Pumba is home to Africa's big 5 plus many many more. We were very lucky to see the rare white lion, cheetahs, hippo, zebra, giraffe along with the big 5.
Website: http://www.pumbagamereserve.co.za
If you are looking for a luxury safari experience, then this ticks all the boxes. You can really see and feel the difference between this and Aquila Game Reserve which we visited earlier on the tour.
The area is vast and situated well off the main road. Just the arrival to the check-in lodge feels like a mini game drive.
There are two lodges at Pumba: the Bush Lodge and Water Lodge. We stayed in the Bush Lodge, but I feel it would be hard to choose between the two. Both offer something slightly different and the outlook from the terrace is very different.
We were very lucky and saw elephants, giraffes and various antelope types from Bush Lodge and at Water Lodge we saw lion, hippo and zebra, so we really were spoilt.
Afternoon and evening game drives are included with very friendly and knowledgeable guides. The reserve is so big you rarely see another vehicle whilst out and they never have more than two vehicles a time at any animal sighting.
Day 9 – Back to Port Elizabeth
Our final day was packed full. In the morning, we had a final game drive at Pumba and then bid a very sad farewell and headed back to Port Elizabeth which is about an hour's drive away.
We stopped for lunch at Bridge Street Brewery in Port Elizabeth. Both food and beer were lovely and it was packed with locals which is always a good sign.
Bridge Street Brewery information: http://www.bridgestreet.co.za
After lunch, we stopped off at the Marine Rehabilitation Centre for a short tour around the animal hospital and a chance to see the rescued African penguins.
We then headed further down the coast to the Cape Recife Lighthouse for amazing views over the nature reserve.
Our hotel for the evening was The Beach Hotel, conveniently located across from the beachfront and next to the boardwalk casino and entertainment complex. Staff in the hotel were very friendly and helpful and it was a good base for a one-night stopover before flying home.
The Beach Hotel information: http://www.thebeachhotel.co.za/
Day 10 – flying to London from Port Elizabeth
Today we flew from Port Elizabeth to Johannesburg with South African Airways, which was a nice flight with a drink and snack served onboard. We then connected in Johannesburg onto our BA flight back to London.
We had a few hours wait in Johannesburg, so we paid to go into one of the lounges. There isn't a lot of seating in Johannesburg Airport so I would recommend doing so for a comfy chair and glass of wine.
The time eventually came to say goodbye to the amazing South Africa.
South Africa travel top tips!
In small towns, the street names are down on the kerb and not on signs
Parking attendants are throughout South Africa, you will find someone sitting around with a high vis jacket on and he will help you park and find a spot for your car. When you return to your car all is expected is to tip him a few coins.
Gratuities: not compulsory but very much appreciated, we suggest the following for tipping:
– Day trip guides: R50 (approx. £2.50)
– Game Reserve safari guide: R200 for the 2-days (approx. £10)
– Game Reserve lodge staff: R100 for the 2-days w (approx. £5)
– Driver: R200 for the full week in the Garden Route (approx. £10)
– Driver: R50 for the 2-days in Johannesburg (approx. £2.50)
– Hotel porters: R10 per bag (approx. 50p)