Forming a curve from the south coast of Florida to the north of Venezuela are the beautiful Caribbean islands. Each of the 7,000 islands in the Caribbean offers something different, but music, culture and food exist everywhere in the region and a warm welcome is guaranteed.
Filled with the delights of white sand beaches, turquoise sea, endless amounts of cocktails and sunny skies, it's easy to see why the Caribbean is a popular choice for those looking to relax. Although synonymous with relaxation, and for good reason, the islands reward travellers who are prepared to venture further inland and explore the islands in search of their true culture.
In recent years many of the islands have experienced record numbers of visitors, mainly due to additional flights from airlines and many hotels being upgraded. Most of the islands with a British and Spanish influence are served by direct flights from the UK, and naturally, these are the most popular destinations. But there are also islands that are slightly harder to get to but well worth the effort.
Here are some of the locations in the Caribbean where you could relax to the maximum as well as explore to your heart's content:
St Lucia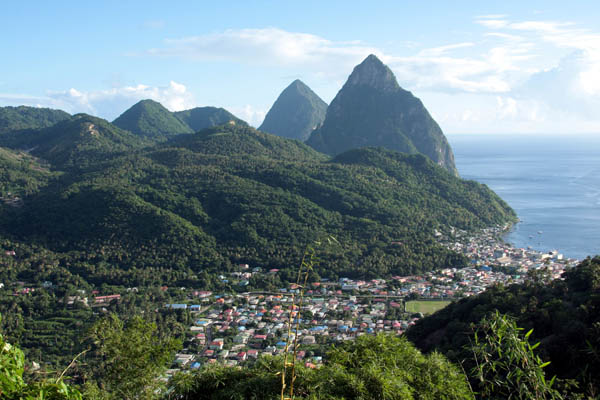 St Lucia is a gem that's unlike any of its neighbouring islands. Behind the customary luscious beaches is a mountainous island covered in areas of thick rainforest – dramatic scenery that is just waiting to be explored.
The island has long been a location of choice for honeymooners with secluded, romantic places to stay. But there is also hiking and trekking opportunities for those more adventurous.
Depending on your preference, you can stay near the bustling capital of Castries, the tropical rainforests or the hidden coves of the north of the island.
Barbados
The beaches, sunshine and swaying palm trees might be what first come to mind when you think of Barbados but it's the wildlife, food and people that keep travellers coming back.
Barbados thinks of itself as the culinary capital of the Caribbean and it has an unmatched selection of eateries. It's also rife with wildlife; you can expect to see green monkeys, mongoose, hummingbirds, sharks, dolphins. You might also spot a leatherback turtle when you're snorkelling! The best place to spot wildlife is the internationally-acclaimed Barbados Wildlife Reserve.
If possible, try to coincide your trip with one of the islands many festivals. Take your pick from jazz, run, reggae, sailing and more!
Antigua
Antigua's corrugated coastline lays home to 365 white sand and crystal blue sea beaches, with many widely regarded as the best in the world. It's this abundance of beaches (one for every day of the year!) that makes Antigua a relaxation paradise for visitors. This beach paradise also has a wonderfully diverse range of unique all-inclusive hotel resorts.
If you can manage to pull yourself away from the sand, you'll find that there is plenty of history and culture to explore. A visit to St John's, the capital, will display the real Antigua with colonial architecture, coloured buildings and booming music.
Cuba
The catchphrase associated with Cuba is "go to Cuba before it changes". Although the country is slowly becoming more liberal, the country still possesses its endearing 'stop the clocks' appearance. Without modern interference, Cuba hasn't seen much change for decades and a trip to the island echoes that of a charming time warp.
Spanish colonial cities are filled with 50s Cadillac and Chevrolets, cobbled streets and colourful aged building. That's without mentioning the rum and world-renowned cigars!
Recent years has seen private investment develop many 5 star hotels along with fabulous restaurants.
St Vincent and the Grenadines
Of this cluster of 32 islands, St Vincent, the largest, is likely to be your gateway island. Slightly more difficult to get to than the other Caribbean islands, those who make the effort are rewarded with the ultimate getaway.
From your St Vincent base, you can take day trips and excursions to the surrounding islands of Bequia, Canouan, Palm and more. These islands are much less visited than their more popular neighbours meaning that they are a good option for those looking to avoid touristy areas.
With barely another soul in sight, you can enjoy the typically beautiful beaches in complete solace. And that's without mentioning the volcanoes waiting to be climbed, hiking trails to walk and waterfalls to bathe in.
Caribbean holiday travel agent
Millington Travel has been arranging bespoke holidays to the Caribbean islands for many years and whether you want a single centre luxury hotel or you'd rather island hop and "do your own thing" then we have all the experience you need to plan and organise your holiday.
Get in touch with one of our Caribbean holiday experts today to find out more.